NLP University and Their Master Practitioner Programme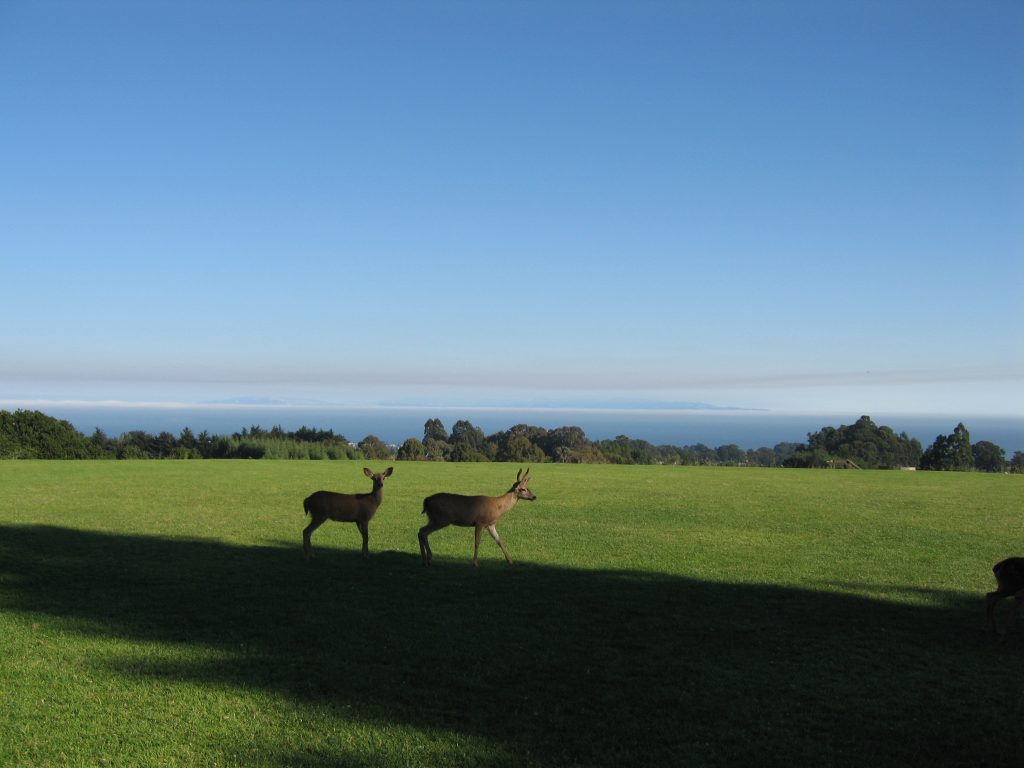 In this blog, I wanted to share some reflections on NLP University.
California Dreamin'
The first time I went to Santa Cruz to study at NLP University was in 2006 to do my NLP Trainer's Training. Going down towards Highway 1 from SF airport, in a rented Ford Mustang convertible, I played the Beach Boys in a slightly iconic (and pretentious) moment as the temperature changed down the route next to the long and lovely beaches. I never imagined that I would return to this place over a dozen times, both as a student and then as a teacher of NLP myself.
The campus at the University of California Santa Cruz (UCSC) is a magical place: over 300 acres of Redwood Forest overlooking Monterey Bay. Rather than signs displaying much information about different faculties, the various buildings were named after people I had never heard of. Apparently, this was part of the ethos of this 'new' University to encourage mixing between disciplines. Rather than write subject names on buildings, these neutrally named structures allowed students to mix. It was in the spirit of this mixing that NLP was born – using linguistics to codify the techniques of famous therapists.
'Creating a world to which people want to belong'
Robert Dilts' mission is 'Creating a world to which people want to belong'. This principle is evident in the kindness and encouragement given to the global NLPers who make their pilgrimage to the NLP University summer programme each year. I have stayed in touch, worked, and socialised with many of the people I met there.
NLPU moves online
In 2013 I joined the faculty at NLPU and am delighted to teach part of their blended Zoom Master Practitioner on 6-19 of August. There is also the shorter Bridge Master Practitioner open to existing Master Practitioners to learn more (and indeed, there is much more to learn).
Robert has invented much of modern NLP and this programme contains so many of his contributions to the field: The Meta Mirror, Logical Levels, Disney Process, Reimprinting, The Hero's Journey, Sleight of Mouth and the Tetra Lemma. He also helped develop eye accessing cues and other key ideas in the very early days of NLP. He is a lovely chap and has maintained his humanity and humility.
The other ingredient that makes the 'Secret Sauce' of NLPU is Judith Delozier, aka Judy. While Robert travels the world creating so many connections, Judy is often the surprise gift of attending NLPU. She invented Six Step Reframing and Perceptual Positions (with some help from her then husband John Grinder) and was there adding to the creation of NLP from its very beginning. We have just launched some eLearning programs based on her body / somatic coaching work.
Why attend NLPU's Master Practitioner Programme this summer?
Here are some reasons why NLP Practitioners might want to consider Master Practitioner with NLPU this summer:
Level – The ability, commitment and engagement of your fellow participants is higher as they are all already NLP Practitioners; the experience is even more transformational than Practitioner.
On the road – if NLP Practitioner is like learning to drive, then Master Practitioner is like taking your first proper road trip (but in a convertible down Highway 1). Make use of your Practitioner skills to hugely benefit yourself and others.
Content – is new with incredible processes and concepts that will be useful in both your work and personal development for the rest of your life.
Convenient – As the program is of a global nature; there are only two hours of Zoom a day along with some breakout sessions. Find out if it is possible to fit into your work / holiday plans this summer by attending our talk on 1 June or contacting us or Teresanlp@aol.com at www.nlpu.com.
Sign up to our talk with NLPU on 1st June here.
Attend a global, transformational training from home
Santa Cruz and the Bay Area was the birthplace of so much of modern psychology around the time NLP started nearly 50 years ago. However, the NLP University requires almost three weeks which has made it difficult for many from both a time and financial perspective.
This year, to have the opportunity to connect into this 'energy' with the first ever blended Zoom training is truly a gift – above is a photo from the USCS campus which acts as an anchor for me and my NLP journey. Hopefully it will soon add to yours.
Did you like this post?
Then check out our events and courses!
Sign up to our new e-learning!
Where to find us
For posts, events, free open days and more, follow NLP School on:
Where to find Robbie
Twitter: @RSteinhouse
LinkedIn: Robbie Steinhouse
What to read next
NLP Practitioner: Why Did I Do It?
What is the Most Important Psychological Shift You Can Make?
5 Questions To Ask When Looking For an NLP Course
Share this