Robbie is one of Britain's leading NLP trainers and coaches. He delivers all of the training at NLP School in London and is also on the faculty at NLP University in California. In addition to being an NLP Master Trainer he is also an ICF certified coach and his work ranges from delivering in-house leadership programmes to coaching private clients across the world.
Starting in the 1980's, Robbie built and ran businesses in recruitment, property and insurance. As these grew, he found an ever-increasing need for more than just commercial skills, both for himself and his team.
He also found a bewildering range of psychological and personal development models on offer. The material that he discovered to be (by far) the most useful was NLP, especially when linked to Transactional Analysis, Mindfulness and the Coaching approach. His passion for the human dimension of business led him to give up his executive role and focus on training and coaching in 2002.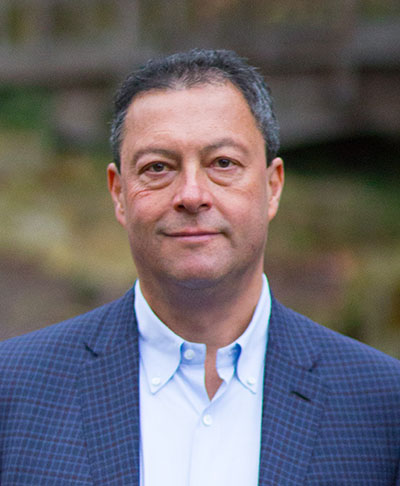 Publications
Think Like An Entrepreneur
'Think Like an Entrepreneur' begins at the very earliest stages: generating an idea and testing it as quickly and effectively as possible. Issues that arise at this point are often about permission to succeed, fear of failure, and perfectionism.
If the idea has 'legs', it then needs to be turned into a genuine platform for success. Entrepreneurs need to understand the full range of business skills they will have to deploy at this point, and to develop ways of separating their now growing business from their own ego and needs. As the business expands further, it may encounter sudden reversals of fortune – techniques for dealing with these are presented. People skills become ever more important: the book goes into both the psychology and the technical principles of delegation (often the biggest problem for entrepreneurs).
If all the above has been handled and done well, the business should enter a period of rapid growth, which we call 'the Jetstream'. Many entrepreneurs find this an exciting but stressful time: under this stress old psychological patterns can emerge – if these are not dealt with, the business can be unconsciously 'sabotaged'. For others, work addiction can become a problem. The book contains solutions for these problems.
Finally, the book addresses the questions that come with success: how do you know when you've really won, and what do you do after that? Success can be surprisingly hard to deal with – but not if you follow the advice presented here.
Order Think Like an Entrepreneur directly from NLP School for £14.00 including p and p to mainland UK.
order now
Brilliant Decision Making
Brilliant Decision Making' challenges conventional wisdom on the subject in a number of ways – for example the myth that good decision makers are always 'decisive'. The book is both intellectually stimulating and of immediate practical use.
Is emotion damaging to decision making or an essential part? Is confusion necessarily a bad thing? How do you get out of a Catch 22 decision dilemma?
Decisions underpin everything we do and apply to all areas of our lives – family, friends, money, careers, health and lifestyle, yet we rarely get 'trained' in how to make them.
The book covers all the areas involved in making a decision, from looking at how our brain works when we are making decisions and the brain's weak points, to identifying the goals you are trying to achieve, as well as tips and tricks to buy extra time to ensure the decision made is rational, focused and adequately thought through.

Order Brilliant Decision Making directly from NLP School for £14.00 including p and p to mainland UK.
order now
How To Coach with NLP
Coaching and NLP (Neuro-Linguistic Programming) both share a fundamental purpose: to help people live happier and more fulfilling lives. Many people are interested in merging the two, but as yet few books have been written that go into the specifics of how you actually go about doing this.
Robbie fills this gap in 'How to Coach with NLP'. He shows, in detail, how traditional coaching methods can be fused with both general NLP 'attitudes' and specific NLP techniques to bring profound improvements in both one's personal and professional life This book covers coaching in a professional context, and is also relevant for people who want to use a coaching approach as a manager, as a parent, as an adviser, as a friend – or, most importantly, as a tool for their own personal development. '
How to Coach with NLP' is available at Amazon and other bookshops, and is also available in Kindle and iPad editions. You can also order it directly from NLP School here.
order now
Mindful Business Leadership
The question of what makes a great business leader has fascinated me for years. I am a leader myself – although I must admit I didn't set out to be one.
I started my niche property business back in 1987 more with the intention of having longer holidays rather than of becoming a leader. The business has since grown into one of the largest in the sector. Leadership is something I've found myself having to learn- initially by doing, later by study. In this book I introduce my Leadership Matrix, ten leader archetypes (and their shadows) and discuss how to identify and develop them.
I am also a coach, and have run leadership programmes and worked directly with many leaders in organisations of differing sizes, helping others through all kinds of issues connected with leadership and its challenges.
My passion for personal development led me to study numerous approaches to leadership over the years but a while ago I decided to develop my own model. I wanted to find a way of combining the intellectual rigour of business psychology with the seasoned experience of the commercial world. The result is Mindful Business Leadership, I hope it will become your guide for lasting leadership success.
Buy Mindful Business Leadership on Amazon or order directly from NLP School with p and p to mainland UK included.
order now
"I chose this particular course because it is not run by a 'cult of personality 'like some other trainers. I wanted to focus on the content and the learning, not the instructor and their stuff. Robbie makes the learning real, practical and accessible (and fun and funny!) Phenomenal."
"Very good. Liked the style and particularly appreciated the "scientific" rather than a "hippy crystal mystical" approach to delivering and understanding the material."
"By far the best NLP trainer I have ever come across. I love the "British" (healthy scepticism) version of NLP. I find the gentle style hugely effective."
"Robbie had a great balance of substance and style – fun and engaging whilst sharing depth of knowledge. Supportive and energetic. Full of ideas and new possibilities. Very pragmatic approach."