What is it?
An NLP Practitioner is someone who understands the principles, values and techniques at the heart of NLP, and is qualified to – and able to – use them with confidence, skill and ethics. A Practitioner has the NLP 'toolkit' at their fingertips, ready for use in personal life or at work…

Our NLP Practitioner training covers 10 days, broken down into three modules spread out over four months. This spread enables you to take in your growing knowledge of NLP slowly – this material is too good to be rushed, and takes time to work into your life at the levels where it will be most effective. We also find that the 'spread' means that friendships have time to develop – the journey of personal discovery is best carried out in the company of like minds, and many people make lasting friendships on our courses.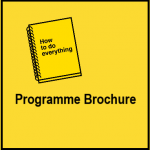 Please download our brochure for more information about the course and each module.
What will you learn?
We teach the full NLP Curriculum as recommended by the Association for NLP (the UK's most respected NLP standardising body).
NLP is a set of tools for personal development. This covers a wide range of things, but NLP will help you:
• Grow in self-knowledge and understanding of other people
• Communicate more clearly and effectively
• Set and achieve clear goals
• Exercise greater influence in your workplace
• Change or discard habits, both mental and physical
• Help others make changes in their lives
• Design and live the life you truly want to lead
Your trainer
Your NLP Practitioner trainer will be Robbie Steinhouse, author of four books, including 'How to Coach with NLP'. Robbie has worked or studied with most of the other major NLP 'names', and is also an ICF (International Coach Federation) Certified Coach and a successful entrepreneur. He is a unique voice: his blend of realism, humour, concern for the individual and passion for the subject have earned him a reputation as a rising star in the world of NLP. Robbie is a Master Trainer, one of only a few worldwide to hold this title. His latest book, published by Routledge, is Mindful Business Leadership
Where and How Much?
Our NLP Practitioner Training is held in Central London at one of our two venues: Regents University in beautiful Regents Park or Cecil Sharp House in leafy Primrose Hill. Both venues benefit from amazing transport links and are near a vast selection of hotels and BnB's should you need to stay overnight.
Cost: £1950.00 ex vat, early booking prices are available, go to our booking page to view.
Interest-free payment plans are available if you wish to pay for the programme in installments. Please contact us for further information.
Accreditations
Our NLP Practitioner Training is accredited with the ICF (International Coach Federation) and gives 39.5 CCEU's for Coaches working towards renewing their ACC, PCC or MCC Certification.
The course also gives 65 hours of CPD for anyone working towards their annual CPD requirements.
Contact us on info@nlpschool.com Or call +44 (0) 207 274 9213