Welcome to NLP School. We were founded in 2002 by Robbie Steinhouse to teach NLP. Since then, we have developed the curriculum, expanding into areas such as coaching and leadership development, using (alongside NLP) psychological techniques such as Transactional Analysis and Mindfulness.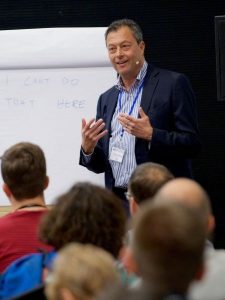 We are experts in our field, but also have a reputation for being approachable and witty.  We are fascinated by psychology and personal development, though distrustful of 'fads' – we feel that passion for our subject is actually nourished by a touch of scepticism.  We live by what we teach, and know that real life is more complex than any psychological model.
Robbie Steinhouse, founder of the School, is our main trainer. The author of four books and an international speaker, he is also a successful entrepreneur, NLP Master Trainer and ICF accredited coach. Judith DeLozier, presenter of our Somatic Coaching courses is an NLP Co Developer, author and highly respected trainer.  Robert Dilts and Stephen Gilligan, presenters of Generative Coaching, are highly-respected specialists in NLP. Reetta Vanhanen is an NLP Master Trainer and Advanced Practitioner of Generative Change with over 20 years of training experience.
NLP School's courses qualify for UK Continuous Professional Development (CPD) points. Our Coach Training and Advanced Coaching courses are accredited by the ICF (International Coach Federation), generally regarded as the leading coaching accreditation body in the world. We are also accredited by NLP University, the highly respected NLP trainers' institute based in the home of NLP, Santa Cruz. On successful completion of our NLP Practitioner training delegates are qualified to apply to ANLP (the UK's foremost NLP membership body), as professional members.
We teach individuals wanting to become coaches, coaches eager to 'up their game', and people just keen to improve their personal life. We also work with organisations to develop their people.