Mindful Business Leadership by Robbie Steinhouse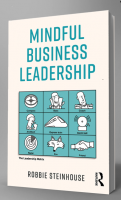 The question of what makes a great business leader has fascinated me for years. I am a leader myself – although I must admit I didn't set out to be one.
I started my  niche property business back in 1987 more with the intention of having longer holidays rather than of becoming a leader. The business has since grown into one of the largest in the sector. Leadership is something I've found myself having to learn- initially by doing, later by study.  In this book I introduce my Leadership Matrix, ten leader archetypes (and their shadows) and discuss how to identify and develop them.
I am also a coach, and have run leadership programmes and worked directly with many leaders in organisations of differing sizes, helping others through all kinds of issues connected with leadership and its challenges.
My passion for personal development led me to study numerous approaches to leadership over the years but a while ago I decided to develop my own model. I wanted to find a way of combining the intellectual rigour of business psychology with the seasoned experience of the commercial world. The result is Mindful Business Leadership, I hope it will become your guide for lasting leadership success.