How to Coach with NLP by Robbie Steinhouse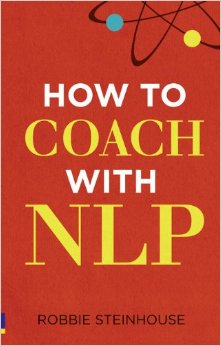 "This book is a marvellous introduction to NLP and coaching for anyone looking for tools to bring out the best in themselves and support others to do the same" - Robert Dilts, NLP founding member
Coaching and NLP (Neuro-Linguistic Programming) both share a fundamental purpose: to help people live happier and more fulfilling lives. Many people are interested in merging the two, but as yet few books have been written that go into the specifics of how you actually go about doing this.
'How to Coach with NLP' by coach, NLP trainer and successful entrepreneur Robbie Steinhouse fills this gap. He shows, in detail, how traditional coaching methods can be fused with both general NLP 'attitudes' and specific NLP techniques to bring profound improvements in both one's personal and professional life This book covers coaching in a professional context, and is also relevant for people who want to use a coaching approach as a manager, as a parent, as an adviser, as a friend – or, most importantly, as a tool for their own personal development. '
How to Coach with NLP' is available at Amazon and other bookshops, and is also available in Kindle and iPad editions.
NLP is a psychological discipline that studies how the mind is 'programmed' as we go through life, but can be re-programmed using both verbal and non-verbal language, to enable people to design the life they want to lead, rather than be led by old habits, beliefs, fears (etc.) NLP is rapidly growing in popularity in the UK.
Coaching is similarly growing in popularity: the models have been developing over the last twenty-five years and are now gaining acceptance as an essential tool for business and personal success.
Author Robbie Steinhouse believes that coaching and NLP are 'made for each other', and that when merged in the right way, can be a uniquely powerful source of transformative power.
'How to Coach with NLP' starts with a basic introduction to the disciplines of coaching and NLP. The reader is then taken carefully through a set of NLP coaching sessions. Both basic and advanced techniques are taught: how to get into the 'coaching mindset', the importance of (and techniques for) contracting, how to create the coaching relationship, how to deal with difficult situations and how to bring the sessions to a highly positive end.
Part Two looks at specific NLP coaching processes, to help coach clients (or yourself) to do things such as:
Set clear goals
Prepare for important events
Deal with challenging relationships
Heal troublesome memories
Boost creativity • Resolve painful inner conflict
Discover a calling
A final section looks at NLP coaching in various contexts: life coaching, sports / performance coaching and coaching in the workplace.
How to Coach with NLP is written in a highly accessible style. This is a book that anyone can pick up, read and learn from. For the NLP Glossary that is mentioned  in the book, please click here.