Brilliant Decision Making, by Robbie Steinhouse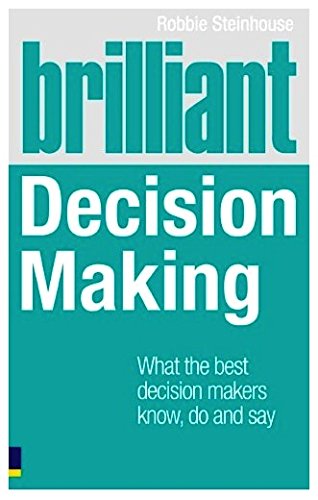 Robbie Steinhouse draws on his considerable business experience, on his knowledge of NLP, and on the latest, ground-breaking neurological research, to design a new set of models for anyone needing to make decisions in any area of life.
Brilliant Decision Making' challenges conventional wisdom on the subject in a number of ways – for example the myth that good decision makers are always 'decisive'. The book is both intellectually stimulating and of immediate practical use.
Is emotion damaging to decision making or an essential part? Is confusion necessarily a bad thing? How do you get out of a Catch 22 decision dilemma?
Decisions underpin everything we do and apply to all areas of our lives – family, friends, money, careers, health and lifestyle, yet we rarely get 'trained' in how to make them.
The book covers all the areas involved in making a decision, from looking at how our brain works when we are making decisions and the brain's weak points, to identifying the goals you are trying to achieve, as well as tips and tricks to buy extra time to ensure the decision made is rational, focused and adequately thought through.
Other areas covered in the book include:
Speaking from the heart – which does not mean losing control. There are a host of ways to insist on your point of view, but respectfully and tactfully
Decisiveness – decisions made quickly are not always the best ones. Consider the consequences, and the knock-on effects your decision may have on others. "Sleeping on it" can be a very good thing…
Confidence – how to cope if feeling afraid of the consequences, plus a host of tips on prioritising values
Positive thinking – the importance of being in the right emotional state when decisions are made. Generally, a happy mind makes better decisions than an unhappy one
Putting your decision into practice – subtle ways for getting people to 'buy in' to your decision and gently bring them round to your point of view
How to deal with agenda holders – be it family, friends, or the full range of agendas we face in the workplace. Everyone will have a view, but not necessarily one that is in your best interest. Often big decisions in our personal life will involve a great deal of conflicting views, and the book provides a whole host of hints and tips on how best to handle them
Negative scenarios – how to handle criticism of your decisions and handle any stressful encounters that might result
What to do when a decision doesn't go to plan – everyone can make the wrong decision on occasion, but this does not make them a bad decision maker – sometimes things just don't go our way…
Robbie Steinhouse provides clear summaries at the end of each chapter, with Brilliant tips highlighting the key points discussed, Brilliant examples providing case studies illustrating individual decision-making scenarios and Brilliant recaps summarising general ideas and approach.
Few decisions go totally wrong – and almost any decision is better than none. In Brilliant Decision Making, Robbie Steinhouse provides a clear and effective approach to what is an essential life skill.
Brilliant Decision Making is available on iPhone, iPad, or iPod Touch and at Amazon for the paperback and Kindle editions.
Brilliant Decision Making is also available in several languages.
Click on the relevant language to get a copy: Chinese, Polish, Spanish
You can also attend training courses in personal and professional development run by the author.
Click here to listen to an MP3 where the author will take you through a guided decision making meditation process.