Making Effective Decisions by Robbie Steinhouse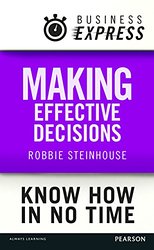 Making Effective Decisions - A New Approach to an Old Problem By Robbie Steinhouse Published in ebook by Pearson Education on 9th September 2014, £4.99
"Short, sharp, shrewd … a clear guide through the maze. Read this and you'll slap your forehead and say: 'Of course! THAT's how it works.'"
Roger Michell, Film Director (Notting Hill, Changing Lanes, etc.)
Most people believe that decisiveness is an inherited trait which people either do or do not have. However, decision making is actually a skill that can be acquired, refined and perfected.
It is also a common belief that this skill is something only leaders need to possess. This is not the case. We all make decisions every day, at work and in our personal lives. While many of these are trivial, lack of decision making skills can make them painful experiences rather than the small but empowering pleasures they could be. And then there are the big decisions, the ones that change the course of lives or determine the fate of businesses…Such decisions can be made well or badly, and this unique, simple, clear ebook explains the difference and how to get it right.
Making Effective Decisions analyses various types of decisions and various styles of decision making – which one are you? It breaks the process of making and implementing decisions down into three distinct phases, and explains the actions and mind-sets that are appropriate for each one. It also presents a 'Decision Simulator', a tool for quick decision making.
Downloading a copy might be the best decision you ever make!
---
Testimonies:
"Short, sharp, shrewd … a clear guide through the maze. Read this and you'll slap your forehead and say: 'Of course! THAT's how it works.'"
Roger Michell
Film Director ('Notting Hill', 'Changing lanes')
"Robbie Steinhouse continues his excellent series of writings detailing how NLP can be used in business contexts.  This mini-book focuses clearly and practically on one of the most central aspects of success, namely, the decision making process that determines success.  I highly recommend it!"
Stephen Gilligan, Ph.D.
Founder, International Association for Generative Change
"Decision-making is one of the basic strategies that affect our life in every moment. A better understanding of the decision-making process, how we do it and what makes one person successful at it is invaluable.
Effective Decision Making by Robbie Steinhouse offers us some theory, structure, exercises and interactive activities to increase the effectiveness of our decision making process…
I know Robbie to be a powerful NLP presenter and trainer, a wonderful collaborator and author. I feel this book is only the beginning of many offerings that will influence the quality of life."
Judith DeLozier – NLP founding member
"Effective decision making is the cornerstone of business success. Robbie Steinhouse is the expert on this subject, one that every business person needs to understand and implement successfully"
Mike Southon, co-author of The Beermat Entrepreneur and other business books
"Robbie Steinhouse encapsulates the critical factors in effective decision-making; before, during and after the decision. This book will definitely improve your life because you will make better decisions."
Shelle Rose Charvet, author of the international bestseller Words That Change Minds
Robbie is an entrepreneur and expert coach perfectly positioned to guide you through the essential skills of making decisions. He introduces the latest ideas in neuroscience and uses them to simply explain how you can make the best decisions in any situation and handle potential pressures and flashpoints within the decision making process. If you want to rapidly  master effective decision making, then this is the book for you.
Phil Parker, PhD researcher, NLP trainer, author & designer of the Lightning Process