NLP Practitioner Certification, module 2 (Leadership Coaching) : London 2017
Categories: Advanced Courses, Coaching Courses, Leadership Courses, Mindful Business Leadership, NLP Practitioner

NLP Practitioner and Leadership Coaching Certification

Our NLP Practitioner and Leadership Coaching Certification is our flagship NLP training programme and the begining of your NLP journey. It's a 10 day certified modular course that will leave you with a range of skills to facilitate your personal and professional development and deepen your ability to communicate and influence with integrity.
NLP Practitioner with Leadership Coaching Certification, module 2.
20/09/2017 - 25/11/2017
9:00 am - 5:30 pm
The NLP Practitioner programme.

Module 1 is the introduction to NLP and Coaching with NLP.
Module 2 teaches Leadership and advanced Coaching Skills.
Module 3 completes the NLP Practitioner curriculum and includes certification.
At the end you will receive two certificates, one as an NLP Practitioner, the other as an NLP Coach.
Your trainer is Robbie Steinhouse, author of Brilliant Decision Making, Think Like an Entrepreneur, Making Effective Decisions and How to Coach with NLP.
Already a Coach and looking to renew your ICF credentials? Our Practitioner is accredited with the ICF and offers CCEU.
NLP School has also been awarded CPD points status for our NLP Practitioner. NLP School is a member of ANLP the UK's most respected NLP standardising and research body, we are also aligned with NLPU in Santa Cruz California, the worldwide gold standard for NLP training.
About the trainer
Robbie Steinhouse is a highly skilled NLP Master Trainer and coach. Robbie combines real-world commercial acumen with a humorous style and tools from NLP, transactional analysis and coaching. He teaches our NLP Essential Skills and NLP Practitioner courses, and works with companies ranging from large corporations to small entrepreneurial businesses to help individuals learn effective leadership techniques.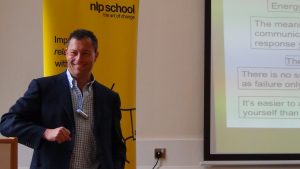 NLP Practitioner / Coaching Certification Programme
Dates:
Module 1:
Can't make it the first time around? We offer this module twice, book the alternative dates instead.
March 15-17 OR June 21-23, 2017
If you have previously completed module 1 with the NLP School and would like to continue with your Practitioner book now to reserve your place. If you have attended an introductory course with another recognised provider and would like to continue your Practitioner with the NLP School please get in touch.
Module 2:
September 20-22nd  (Mindful Business Leadership)
Module 3:
November 22-25, 2017 (Certification)
Can't make a certain day or days? Get in touch; we can usually work around it.
Timing:
09.30 to approximately 17.00.
Venue:
Regents University, Inner Circle, Regents Park, London NW1
Cost:
Tickets now on sale at £1900.00 ex VAT. (affordable instalment options are available, just get in touch to discuss options to suit you.
Booking Options:
You can book and pay online using the "book now" button or get in touch directly, we'll be happy to help. Tel +44 (0) 207 428 7915 or email info@nlpschool.com
Our Feedback:
"Robbie makes the learning real, practical and accessible (and fun and funny!) Phenomenal."
"Very good. Liked the style and particularly appreciated the 'scientific' rather than a 'hippy crystal mystical' approach to delivering and understanding the material."
"By far the best NLP trainer I have ever come across. I love the 'British' (healthy scepticism) version of NLP. I find the gentle style hugely effective."
"Robbie had a great balance of substance and style – fun and engaging whilst sharing depth of knowledge. Supportive and energetic. Full of ideas and new possibilities. Very pragmatic approach."
You can read more about what people thought of their training, and see videos of past students on the testimonials tab.
Your Next Steps:
We cover every aspect of the NLP Practitioner certification including:
Well Formed Outcomes – Learn how to create compelling, successful goals every time
Representational Systems – Learn how to understand yourself and others
Submodalities – Learn how to use your brain's programming language
Language Patterns – Change your world through the words you use
Anchoring & State Management – Change the way you feel anytime you like
Strategies – Change your behaviours and unwanted habits
Personal Integration – Resolve internal conflict and gain congruence and understanding
Time Empowerment Techniques – Learn how to release emotions from the past
Beliefs – Learn how to change limiting beliefs and create empowering beliefs
Phobia Model – Eradicate phobias in yourself and others
Learning Strategies – Learn how to teach, coach and lead others
Going deeper in to the same themes of change, learning and excellence, the syllabus includes:
The concept of rapport and how to develop it.
Sensory acuity and physiological cues
Recognising linguistic patterns and language as a tool for change
Understanding and working with positive intentions Identifying thinking patterns and strategies
The concept of strategies and how they can be applied to any activity
The 'Brilliant' decision making model
Powerful methods for resolving past issues, including phobias
Creativity and planning tools
Presentation skills, especially the use of stories and metaphor
High-performance. Be at your best in situations which previously seemed difficult, if not impossible, or boost your game in areas where you are already skilled.
Meet your targets
Change unwanted habits
Begin to understand the unconscious mind and how it works
Develop clear, powerful decision making strategies
Communicate more precisely and flexibly and circumvent common communication problems
Accelerate learning using questioning and observation methods.
An excellent course, covering so much useful material in a very practical way. Being split over a number of days allows you to reflect and absorb the material covered in each module before embarking on the next. The learning has just begun." Lee Price, Director, Polygon Consulting Ltd
---
---
"NLP with a pinch of realism – very rewarding and applies both to work and personal areas, very powerful and user friendly." Hazel McIntyre, Head of HR, Fox International (Media)
---
---
"The course is designed perfectly as a tool kit for you – and it can be used for personal development or for business development – for whatever reasons you may do the course, the two will inevitably cross over. For me, a brilliant new outlook on life, personally and professionally." Niki Deighton, Founder, ThinkTank Media
---
---
"The pace of this practitioner course is absolutely spot on. The regular pattern of teaching-demonstration-process really embeds the learning. The actual number of days training represents huge value for money, and the accreditation is authentic. The experience leads to genuine application of NLP techniques, processes and attitude to life. " Martin Howe, coach, trainer and consultant
---
"Practical, no hype." Tulip Noble, Home Office
---